Portable Ultrasound
Past, Present and Future
Portable ultrasound machines are quickly becoming smaller and quality improved. Many professionals have started carrying ultrasound technology to rural locations within the US and developing countries.
Ultrasound machines are now useful to more than just hospitals with great power sources and space for large, bulky machines.
The developing portable ultrasound units industry has grown successfully for years and is forecasted to take a even larger role in the ultrasound market.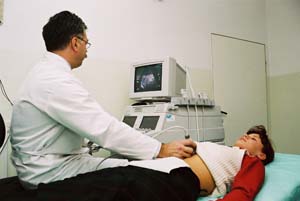 Currently, the main players are SonoSite of Bothell, WA, and GE health care. Each company receives about 40% of the global market share, says the experts.
More on Portable Ultrasound Machines
The business, SonoSite, founded the portable technology during 1999 - a fantastic development. Niche leader GE entered the market soon after during 2002. GE claims to have completely independent goals and ideas from Sonosite.
Additionally they had planned their own line of portable ultrasound machines and SonoSite has not effected their success.
Less complex portable ultrasound equipment has been around for practically 30 years - but SonoSite led the production to produce images of high quality. A quality higher than had ever been seen before in 3D ultrasounds.
The portable battery-operated devices shouldn't be predicted to completely replace traditional full-sized machines, rather they can be used to compliment.
Compact sonogram machines are even becoming famous with doctors outside the areas of radiation, cardiology and pregnancies.
New areas of interest include: emergency medicine and anesthesiology.
These nifty little machines produce live 3D ultrasound imaging of organs or a developing fetus by translating signals of reflected waves off of solid internal surfaces.
To learn more about portable ultrasound technology, check out our other sections.